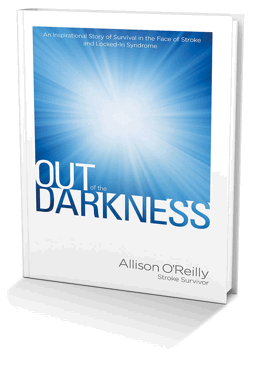 Out of Darkness is a personal look at the overwhelming challenges of a brain stem stroke, the painstaking process of relearning everything, the meaning of patience and the responsibilities that fall to a loving husband who wants the best possible treatment for his wife.
In an inspirational memoir, Allison O'Reilly shares her encouraging story of stroke and the rare Locked-In Syndrome she experienced, and her miraculous recovery, despite enormous odds.
The physical recovery process is described in general terms. This reading does not serve as a 'how to' manual for recovery techniques and processes. Its value is in the demonstration that a positive attitude, a good medical team and a strong social and family network can overcome even the direst of situations. It is a unique opportunity for the reader to gain from the rare insight that comes in the form of a survivor's voice.
"It is truly times like these that make you wonder about the meaning of life and why difficult times are often imposed on those that seem to deserve it the least.
One weekend in the fall of 2010, I was a woman engaged in a full time career, my family and the challenges of daily life. Then over what should have been a normal day, my life radically changed.
Out of the Darkness chronicles my massive stroke along with my will and determination to fight for my life and independence. It's about what you learn about yourself when faced with adversity.
This is a story of inspiration, love and hope, as well as, sharing lessons learned during devastating time. I have been told that people think of me and how I am overcoming my challenges as a modern hero and invaluable role model for those with little aches and pains.
Every Stroke is different and every recovery is different. Out of the Darkness is not meant to downplay people's motivation or willingness to recover; it's my story of healing, as well as sharing lessons learned with others during this devastating time and to be a non-clinical voice for the Medical community, especially for younger Stroke Survivors."
For more information go here: http://outofthedarknessbook.org/