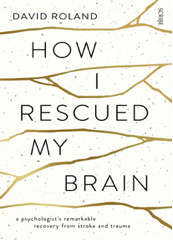 As a forensic psychologist, David Roland often saw the toughest, most heartbreaking cases. The emotional trauma had begun to take its toll — and then the global financial crisis hit, leaving his family facing financial ruin.
When he found himself in an emergency ward with little idea of how he got there, doctors wondered if he had had a nervous breakdown. Eventually they discovered the truth: David had suffered a stroke, which had resulted in brain injury. He faced two choices: give up or get his brain working again. Drawing on the principles of neuroplasticity, David set about re-wiring his brain. He embarked on a search that brought him into contact with doctors, neuroscientists, yoga teachers, musicians, and a Buddhist nun, and found the tools to restore his sense of self: psychotherapy, swimming, music, mindfulness, and meditation.
This is the story of David's neurological difficulties and of his remarkable cognitive recovery. It is also an account of a journey to emotional health. How I Rescued My Brain is an amazing tale of one man's resilience, and his determination to overcome one of the most frightening situations imaginable — the fear that he had lost his mind and might not get it back.
He opens his memoir with an account of finding himself in a hospital waiting room with very little idea of how he got there. His wife, Anna, is present and he vaguely remembers her driving "and me vomiting out of the car window", but he doesn't know what year or day it is.
Anna found Roland wandering their house at dawn, talking in a "dreamy monotone", his skin white and icy. Initially, doctors suspect he has suffered "a psychogenic fugue: an episode of amnesia". They send him to recuperate at a psychiatric clinic where he adjusts to his altered status from doctor to patient. "I've finally lost it," Roland thinks. "I've had a mental breakdown."
For the past three years, he'd been feeling depressed: his marriage was in trouble, his father died and he stopped working. Two decades of listening to patients' harrowing stories have taken their toll and Roland's own psychiatrist, Wayne, diagnoses him with post-traumatic stress disorder.
"My capacity for empathy had become a poison," he concludes, while Wayne reminds him: "Your clients' lives are better for having met you."
He goes through hell and, after doctors discover he hasn't suffered a breakdown but a massive stroke, he embarks on a quest for mindfulness which requires emotional intelligence and humility. He engages doctors, neuroscientists and a Buddhist nun but remains mired in legal battles concerning his property business and facing bankruptcy. Anna wants to break up, his children are scared of him and he suffers from "rubber brain" which makes him tired, confused, inarticulate. All this is narrated clearly, as Roland combines accessible passages on the science of neuroplasticity with disturbing descriptions of forgetting words and getting lost in supermarkets.
Reading and writing are significant factors in Roland's healing so he discusses helpful texts and includes a comprehensive bibliography. Nearly 800,000 people worldwide suffer strokes every year and Roland's memoir will be valuable to them. However, it also has the potential to alter attitudes to disability more generally. Roland captures its isolating effects and demonstrates how distressing it is to have to justify your suffering, as incapacity benefit claimants are increasingly forced to today. As he says: "I am not imagining my difficulties; they are real."
Original article by MAX LIU in the Independent newspaper (UK). Follow link below:
http://www.independent.co.uk/arts-entertainment/books/reviews/how-i-rescued-my-brain-by-david-roland-book-review-zen-and-the-art-of-stroke-recovery-10056615.html