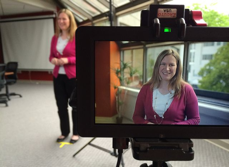 You can see the video here  and order copies of the DVD from office@strokerecoverybc.ca
Our 7 Steps to Stroke Recovery video, which was posted on YouTube 5 months ago, has reached almost 19,147 views at the time of writing.
That is an impressive number for a targeted health-related production. It demonstrates that this is an effective way for us to get helpful information about stroke recovery into the right hands. We encourage you all to continue to help spread the word on-line and by using the DVD.
In order to continue to create resources like this video, we need your financial support. When you decide to donate, you help build a world where every stroke survivor has respect, inclusion, and support in their home community. Please help to bring stroke survivors in BC back to life and support their caregivers by making a donation today. Full details are at the bottom of this newsletter.