My Stroke Recovery Journey – An Interview with Dr. David Butler-Jones 'Canada's Top Doctor'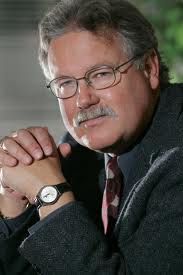 Dr. David Butler-Jones, Canada's top doctor, is recovering from a stroke that hit him a year ago. While he is the process of stepping down from his role as Chief Public Health Officer of Canada, Dr. Butler-Jones has no intention of stopping his rehabilitation. In fact he is helping others by spreading the word that there is life after stroke. Dr. Butler-Jones was kind enough to take some time off from his hectic schedule to talk to SRABC Communications Committee Volunteer Christine Baudry.
What was your first thought when you were told you had suffered a stroke?
The first thing was just curiosity … what's happening?  Why is it happening?  What does this mean?  Then I was worried because my dad's career ended, and my dad's stroke was actually less than mine. It affected his short-term memory to a point where he had to leave the government. He was a consulting engineer. That was the end of his career at 52 or 53. Even though my dad had his first stroke in his early 50s, I really didn't think it would be a stroke that would alter my career.
This was my worry, because I also had short-term memory loss … I wasn't ready to be done yet. I still have all these plans and all these things to do with the agency and public health. Just the prospect of not being able to do that was that was my biggest question.
What challenges did you face and how did you overcome them?
There are just so many.  For some people like me it basically shatters your world in the sense of you can't remember the conversation you just had. You can't remember what you just read. You can't both read and listen to somebody at the same time.
Initially it was a process of learning. I had hemiparesis but I wasn't hemiplegic. In other words, I could move my left side. I could walk slowly and climb stairs slowly. I couldn't do two steps. If I closed my eyes, I'd fall over. I had some left side neglects. I'd be bumping into things.  My real focus was, "Okay, what do I need to do to get back?"
I also didn't realize what hard work thinking was. I never had to worry about that. School was easy. Intellectually, everything came easy.  Suddenly, everything was hard work. My wife, Glenda, would say – just to let you know, you've already asked me that three times. I had no clue. It's not like, "Oh, I have a vague memory." It's like there's nothing there. It's gone.
What was your therapy like?
A lot of my therapy work was relearning the names of things. I do crossword puzzles and word finds and all kinds of different things to rebuild vocabulary.  That was the challenge. I had a tremendous therapy team. Once I got into the system, I had great rehab specialists – physio, and speech and some really talented people. Basically, when my dad had his stroke, it was "Well, sorry. Good luck to you." There are still elements of that in the system.
I had a great neurologist. He said, "Your brain is like a computer – it tries to access different sectors when your hard drive is being corrupted. It's not that it's not there. You just can't get at it. At the same time they swap out your quad-core three gigahertz processor, put it in a single core on a hundred megahertz processor. You can still do stuff but it will take you longer … and heaven help you if you try to run a program in the background!
The system is getting better but we're not really well geared to the kind of rehab and support that will actually help people.   The system is not geared for that.  Stroke and brain injury … because it's so complex, because everybody is so different, it's an area that we really need to focus more on because there's huge potential out there.   We've got a way to go … we need to be talking about this, not in a complaining way.  It can be better and it wouldn't take much to make it a lot better.
I've made tremendous progress. Quite honestly, without them, I'd still be on the couch. Unfortunately, I think people slip through the cracks sometimes – especially if it's a minor stroke.
How did it affect your work?
I have stepped down but I'm still helping out. For anybody who's had a stroke it can be a huge challenge. Fortunately, I grew up with a positive attitude – that whatever cards you're dealt, you play them as best as you can. I certainly saw that in patients, the ones that I journeyed with … when people get to that point, it's really amazing.
How do you deal with it?  I've been extremely fortunate. It could have been a lot worse – it would be nice if it was better! Again, because of having such a public stroke, people come up to me and tell me their stories or that of a family or friend. I found that very helpful … I don't know how helpful I was to them. Certainly, they were helpful to me. You're not alone in this!
As for your strongest supporter and caregiver, who would say that would be?
That would be my wife. What is important is that you have people that you care about and that care about you. It doesn't matter what age, male or female, those who are well connected have less risk of dying than those that aren't. Again, that's having a support network whether it's coworkers, family or friends.  People that care about you but that you also care about have a tremendous impact … even if you're poor- you're going to have good health.
If there's a message you could send others who are recovering from a stroke, what would you say to them?
It will always take a lot longer than you want or hope. Never give up hope and never stop trying. You have to balance expectations. The key thing is that we are likely to get what we expect. If we expect good things, we won't always get them but we're more likely to get them. We're more likely to achieve them. If we expect we're not going to do any better, there's a good chance that is as good as we're going to get.
Early on I read the John Carter series by Edgar Rice Burroughs.  His attitude was, "There's still hope. I'm not dead yet." I held on to that. I must say I'm so fortunate to have made the progress that I've made and to have the life that I have. We'll see where it takes me. It's not where I planned, but I still have an opportunity to contribute. Even those with a greater disability than mine; their relationships, the wisdom that they bring – we all have something to offer.  Just be open and humble about it.
Are there any ways in which your life is better now?
How is my life better? That's a good question. I probably have a bit more patience with myself. I always had a lot of patience with others but not so much for myself. It has forced me to re-examine who I am. I still get frustrated … that sense of loss, but with tremendous gratitude at the same time.
There are things that clearly I don't do as well. Then there are a few other things that I actually do better. I can actually see patterns and things better than I could. That's partly because of the kinds of therapies that I've been doing. I'm also more intentional – because I have short term memory challenges, I actually pay attention to things differently because if I don't, I won't remember.   I create associations either with other memories or if it's numbers … I put them on a clock so I visualize a time not just numbers and a whole bunch of other little tricks that seem to have gotten more ingrained. I'm getting quicker at it. That can't be a bad thing!